Date Published:
26/01/2020
Example of Final Warning of Winding Up Letter from HMRC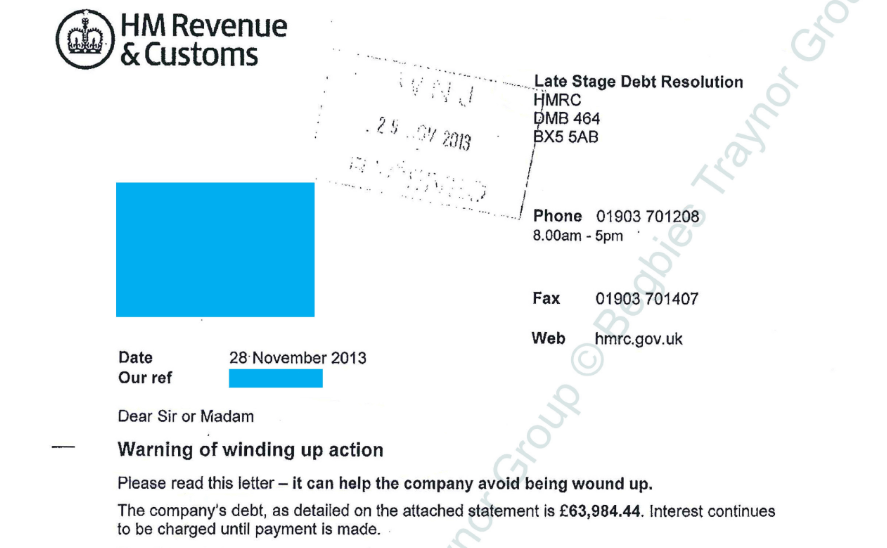 What does the letter say?
"Warning of Winding Up Action. Please read this letter – it can help the company avoid being wound up. The company's debt, as detailed on the attached statement is £X. Interest continues to be charged until payment is made. Despite reminders you have not paid.
If you do not take action within seven working days of the date of this letter, we will wind up the company for this debt. This will increase the amount it has to pay. The company's bank accounts may also be frozen and its assets put at risk."
What does this letter mean?
This letter shouldn't have come as a shock as HMRC will send a letter of this nature after persistent failure to meet tax liabilities. Having decided 'enough is enough', HMRC has issued a final warning of winding up your company, which will now happen in seven days unless you can either pay your outstanding debts, or come to an arrangement with HMRC that will see them paid over time in instalments, i.e. a Time To Pay agreement.
An experienced Begbies Traynor advisor can help in this area; via a free consultation we can discuss your current business situation and plan accordingly for a rescue option or the best route forward for liquidation. You have little time to act – contact Begbies Traynor today and a licensed insolvency practitioner in your area can provide independent advice.