Our Public Sector Experience
While much attention is given to the challenges facing the private sector, those operating within the public sector are not immune to the effects of an uncertain and challenging economy. Signs of financial or operational distress need to be addressed as a matter of urgency, for businesses whether they are operating in the private or public sector, allowing them to continue to deliver services in the most effective and efficient way possible.
Named as a supplier on Crown Commercial Service's Restructuring and Insolvency Services framework, Begbies Traynor has a wealth of experience assisting those operating across the full spectrum of the public sector, including healthcare, local authorities, central government, housing associations, and educational establishments.
With national reach thanks to a network of over 100 offices spanning the length and breadth of the UK, we are perfectly placed to assist public sector organisations regardless of geographic location.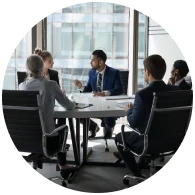 Find Your Begbies Traynor Group Professional
Use our People Search to find the person you need based on location or skillset.
Introducing the Crown Commercial Service (CCS) Framework
An executive agency sponsored by the Cabinet Office, Crown Commercial Service (CCS) provide policy, advice, and procurement services to those operating within the public sector. Their offerings take the form of framework agreements - a set of pre-tendered agreements, from a range of trusted suppliers from which public sector customers can acquire the goods and services they need.
The Restructuring and Insolvency Services framework, of which Begbies Traynor are a chosen supplier, allows the UK Government and other public sector bodies to access specialist restructuring and insolvency services from reputable, trustworthy, and pre-vetted providers.
A comprehensive suite of restructuring and insolvency services can be accessed via the framework, ranging from distressed debt restructuring, contingency planning, business and cash flow reviews, through to extensive restructuring or simplification of the business's finances and operations. Working alongside stakeholders, we can deliver the insight into the business, and build established insolvency management processes into long-term plans going forward.
Our Services and Solutions
We offer a range of insolvency and restructuring solutions and services to the public sector, including:
Business reviews

Debt restructuring and refinancing

General restructuring advice

Insolvency solutions including administrations and liquidations

Corporate simplification

Risk management

Corporate finance including mergers and acquisitions

Pensions advisory
Advice on Rescue Options
Arrange a free consultation with an insolvency professional at Begbies Traynor – choose a time at your convenience and with no obligation.
Free Consultation
Who We Help
We have the knowledge and sector-specific expertise to assist with clients operating across the full remit of the public sector, including:
Education – Reducing the risk of insolvency, and providing expert advice and guidance when a school, college, or other educational establishment becomes insolvent. Eddisons, part of Begbies Traynor, can provide end-to-end support with the Condition Improvement Fund (CIF) application process, helping you secure funding to maintain and improve the condition of academic buildings and infrastructure.
Healthcare – Our team have extensive experience in supporting NHS trusts with challenges both operational and financial in nature. Our restructuring experts can help with identifying cost-saving measures in light of increasing budgetary pressures, all while safeguarding patient care at all stages. Through our specialist property services offered by Eddisons, we can advise on NHS trust estates, ensuring estates are both operating and funded effectively.
Central Government – When dealing with central government provisions, you carry huge responsibility in ensuring change initiatives and large-scale programmes are delivered in a way which achieves successful outcomes for all involved. This often requires juggling rapidly changing behaviours and expectations, shifting targets, and tight budgets which may be further squeezed by funding cuts and unexpected costs. Our experts can be on hand to provide the fresh insight and analytical expertise to guide your project through to completion.
Local Government – As the economy becomes more and more uncertain, the services provided by local councils have never been more important nor more in demand. This increased demand on services can be at odds with already constrained budgets, requiring a robust yet flexible strategy to be implemented in order to ensure smooth delivery while remaining on budget. When finances become squeezed we are here to help get things back on track.
Housing Associations – Begbies Traynor implemented the very first CVA for a Housing Association in the UK. Operating on a gross loss position, and encumbered with compliance issues, a £4m secured loan facility - which the company had no prospect of repaying - was the only thing preventing the company from running out of funds. We worked with directors and statutory board members to build a new financial model, while also preparing a contingency plan to ensure ongoing provision of services to users. Landlords were contacted to discuss their individual portfolio models, notified of the proposed CVA to formally vary leases, and offered a window of time to transfer their portfolio to alternative housing associations. All remaining landlords gave their consent to the CVA proposal which was ultimately implemented with over 99% creditor approval. The CVA has now concluded, no break in provision for service users was experienced, and the Housing Association continues to operate to this day.