Personal insolvency solutions for individuals – Understanding an Individual Voluntary Arrangement (IVA)
An Individual Voluntary Arrangement (IVA) is a legally binding agreement between debtors and creditors. It allows debtors to reorganise their financial affairs to the satisfaction of all parties – as well as relieving them of the stress that such financial difficulties can cause.
The IVA procedure was introduced by the Government in 1986 as an alternative to bankruptcy and has become a fairly common process for people across the UK looking to end escalating debts and begin steps towards a debt-free future.
Advantages of an IVA
An IVA allows debtors to put a proposal to creditors so they can repay their debts, or a percentage of their debts, over a given period of time
An IVA typically includes non-priority debts, such as credit card debts and personal loans
Throughout the duration of the IVA, all interest and charges will be frozen
The debtor will be protected from creditor action to prevent their financial position from further deteriorating
Disadvantages of an IVA
For creditors to approve the arrangement, an IVA must typically generate a better return for creditors than if the debtor was to declare bankruptcy
As a minimum, 75% of creditors must approve the proposal put forward by the insolvency practitioner
An IVA generally lasts five years, during which regular payments must be made
An IVA will be recorded in the Individual Insolvency Register and remain on your credit report for six years 
An IVA is a legally binding process, and therefore, if the terms of the agreement are not met, creditors may enforce bankruptcy.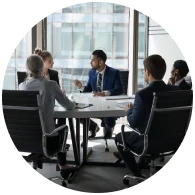 Find Your Begbies Traynor Group Professional
Use our People Search to find the person you need based on location or skillset.
Entering an Individual Voluntary Arrangement
As part of this process, we undertake a no obligation review of the debtors financial affairs. If we feel that an IVA is the right procedure for the individual, we will advise the debtor to formally engage with an IVA specialist. Our IVA services are subject to a monthly fee which will be agreed upon with the debtor prior to entering the IVA, after which, we will notify creditors on their behalf.
With an IVA there is no minimum dividend, no maximum dividend and no maximum duration – it's very much down to your individual circumstances. We're committed to giving you the best advice and we'll guide you on formulating a proposal that maximises the return to your creditors, whilst making sure that the terms are both reasonable and achievable. Getting this balance right is crucial and you can be confident that we'll help you make the right decisions – after all, we've been advising people for over 25 years on what makes a good Individual Voluntary Arrangement.
Under the law, you must prepare your proposal to creditors with the assistance of a licensed Insolvency Practitioner, known as a 'Nominee'. We have fully qualified Insolvency Practitioners who specialise in personal insolvency, and we can assist you to complete the proposal to your creditors. We'll also ensure that it maximises the return to your creditors within reasonable, realistic and achievable terms.
You must make a full disclosure to your Nominee of all your assets and liabilities - and the proposal should ensure that your creditors will measurably benefit from the arrangement, receiving a higher return than if you became bankrupt. The proposal is confidential and you will always remain in control of your assets.
It's worth bearing in mind that you can enter into an IVA even if you're already bankrupt or have been presented with a bankruptcy petition – and if you're self-employed and working in a viable business, you can continue to trade.
Complaints
We hope that you will be satisfied with the service that we provide, but we recognise that there may be occasions where you will not be satisfied with the way in which the matter has been dealt with. In those circumstances please refer to our Complaints Procedure.
For general information on dealing with personal debt, visit the Money Helper website.
Fees and Information
There are fees associated with our services. These will be fully explained before entering into any of the personal debt solutions referred to on this website. Full details of our fees and how these are charged are fully explained to you prior to you committing to any particular service.