Date Published:
14/02/2020
Example of HMRC Distraint Notice and Inventory Checklist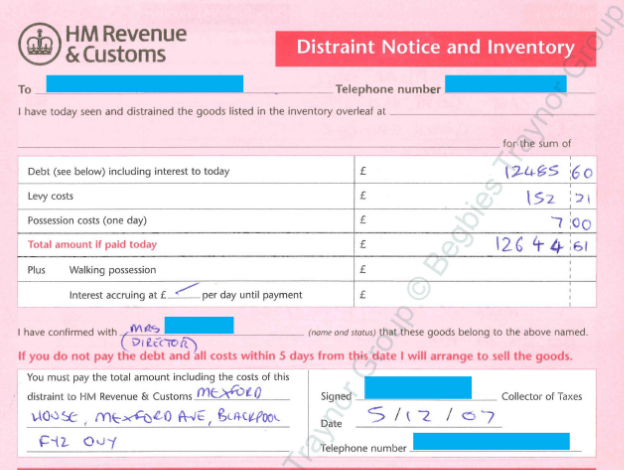 What does the letter say?
"To xxx, I have today seen and distrained the goods listed in the inventory overleaf at (premises).
(Followed by a list of distrained goods)
If you do not pay the debt and all the costs within 5 days from this date, I will arrange to sell the goods."
What does this letter mean?
A Distraint Notice and Inventory letter from HMRC will be sent following, in all likelihood, a lengthy period of non-tax payment culminating in serious action being taken against your company.
An HMRC Enforcement Officer or a bailiff – usually from a private company appointed by HMRC on their behalf – has the authority to turn up at your business premises and list assets that can be sold at auction to pay your debts. These tend to be tangible goods such as furniture, computers, vehicles, stock, etc. After compiling the list of auctionable assets, you'll be handed the distraint notice documenting these assets which are not allowed to be removed or sold by you from this time onwards.
You will now have five days to settle your debts – typically unpaid VAT, PAYE or corporation tax – or HMRC Enforcement Officers will return and seize these assets to sell at public auction.
If you have been issued with a Distraint Notice and Inventory letter from HMRC, it is highly advisable that you consult with a licensed insolvency practitioner as soon as possible – you can do this free of charge by contacting Begbies Traynor and one of our regional IPs will be able to offer their expert advice.