Understanding the Administrative Receivership process
Administrative receivers are appointed with a view to selling assets of the company in order to repay the sums owed to the secured creditor.
There are some similarities between administrative receivership and administration – however, administrations are now more common as a secured creditor is generally only able to appoint an administrative receiver in circumstances where they are holding security – most commonly a debenture – that was granted before the 15th September 2003.
A debenture is a common method of obtaining security, under which a lender is typically granted both fixed and floating charges over all of a company's assets and undertakings. It is effectively a method for lenders, such as banks, to feel safe in the knowledge that their interests are protected as securely as possible.
Whether or not you'll be able to avoid your company from entering administrative receivership will depend on how far along in the process you are, and how soon you take action after becoming aware that the secured creditor is contemplating making such an appointment. If the company has already breached the terms of its banking or loan facilities, it is highly advised to contact us as soon as possible to discuss the options which may be available.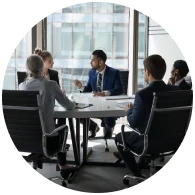 Find Your Begbies Traynor Group Professional
Use our People Search to find the person you need based on location or skillset.
A receiver appointed specifically under a fixed charge generally has more limited powers as they can only deal with the fixed charge property and not the business generally. A fixed charge receiver may also be referred to as an LPA receiver where a receiver is appointed under the Law of Property Act 1925 to take back control of the property where the borrower has defaulted on the terms of its loan.
LPA receivership is not a formal insolvency procedure and so should not be confused with administrative receivership. While LPA receivers are commonly appointed where the borrower has failed to repay a loan, it can also occur where there have been other breaches of the loan, for example, a breach of the loan-to-value covenant. The fixed charge receiver is usually given extensive powers to run the business at the property and to divert the business income to the lender.
Advice on Rescue Options
Arrange a free consultation with an insolvency professional at Begbies Traynor – choose a time at your convenience and with no obligation.
Free Consultation
For more information on administrative receivership and the options that are available to you and your company, you can arrange a free consultation at one of our regional Begbies Traynor offices and seek confidential advice from a licensed insolvency practitioner.
If Administrative receivership is the best way to proceed, we can be appointed Administrative Receiver, since we are on the approved panels of clearing banks and asset-based lenders (ABLs) whose support is necessary for these appointments – plus we have the experience and expertise to work with you in achieving maximum realisations as part of a value-added process.