Date Published:
16/02/2020
Example of 7-Day Winding Up Warning Letter from HMRC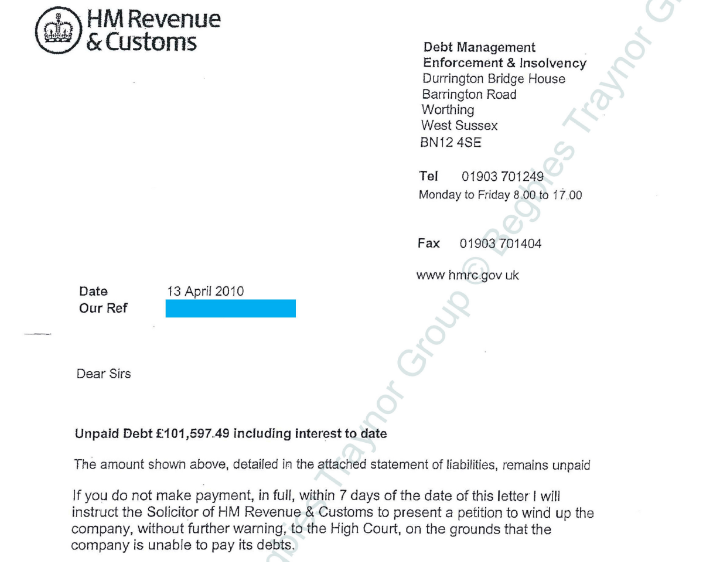 What does the letter say?
"Unpaid debt £X including interest to date. The amount shown above detailed in the attached statement of liabilities remains unpaid. If you do not make payment, in full, within 7 days of the date of this letter I will instruct the solicitor of HM Revenue & Customs to present a petition to wind up the company, without further warning, to the High Court, on the grounds that the company is unable to pay its debts.
You should be aware that once a petition is filed with the court, it must be advertised in the London/Belfast Gazette not less than 7 business days after service on the company. This may cause the company's bank accounts to be frozen and enable any other creditors to support the petition.
"No further warning will be given. If the company does not pay, the next action will be the filing of the petition."
What does this letter mean?
A company director would receive this letter from HMRC following a prolonged period of failure to meet liabilities. By sending this seven-day warning of a winding up petition, HMRC is essentially threatening to begin the liquidation process of your business in a week's time unless the company can pay its debts.
In other words, there is no time to waste if you see a future for your company. If you are unable to pay the debts owed, HMRC may be open to negotiation on a repayment schedule but you will have to negotiate with them and attempt to come to an arrangement. Begbies Traynor's experienced business rescue advisors can help in this area and regularly set up Time To Pay arrangements with our clients and HMRC.
Time is of the essence and your company will be liquidated if you take no action. For expert advice, contact Begbies Traynor and a licensed insolvency practitioner can offer a free initial consultation in your regional area.