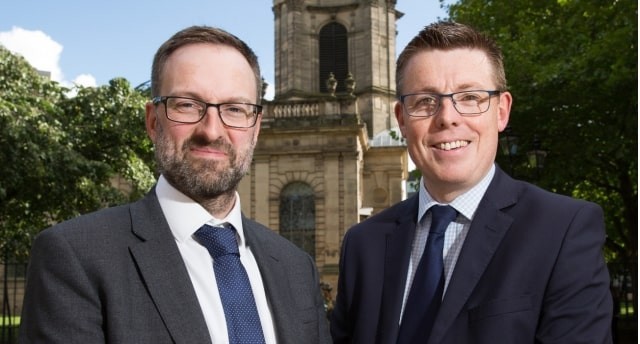 Date Published:
29/09/2017
Begbies Traynor have promoted two Birmingham‐based directors to the position of partner to serve the Midlands region.
Mark Malone and Gareth Prince, who have been with the firm for a combined total of 25 years, say the move further enhances the firm's strong position in the region.
They said the move was a "logical progression" for the expanding Birmingham office, which is part of the UK's leading independent insolvency practice and which has also recently appointed two other new members of staff.
Gareth, who lives in Lichfield, and Mark, from Worcester, will as partners be responsible for driving future growth and strategy for Begbies Traynor across the Midlands. Both achieved the Joint Insolvency Examination Board qualification in 2010, having qualified as Chartered Certified Accountants, and were appointed directors three years ago.
Mark said: "This is an excellent opportunity and we are pleased to become partners. As well as delivering insolvency and recovery advice, as a group we are also continuing to develop our advisory offering which will bring new opportunities and, in consequence, further growth for our team in the Midlands."
Gareth added: "We are both focused on driving the growth further. With the depth of experience we have, we know we're a team that's very well equipped to offer advice and support to businesses experiencing any degree of financial distress, whether that be through the group's advisory and recovery offering or by achieving the best possible outcome through a formal insolvency process."