Date Published:
23/03/2015
In just the second season in which football clubs' accounts have come under the scrutiny of the Financial Fair Play (FFP) rules, the health of English league clubs has improved significantly, reversing last year's rise in distress.
The Begbies Traynor Red Flag Alert Football Distress Report provides annual snapshots of financial distress in English and Scottish football clubs. The report's latest figures reveal that just three clubs, one in 24 of the 72 clubs in the Championship and Leagues One and Two, are suffering from serious financial distress.
This is a 63% reduction in the number of financially stressed football clubs since the survey was last carried out in March 2014, and a massive 77% fall since the first report in 2012.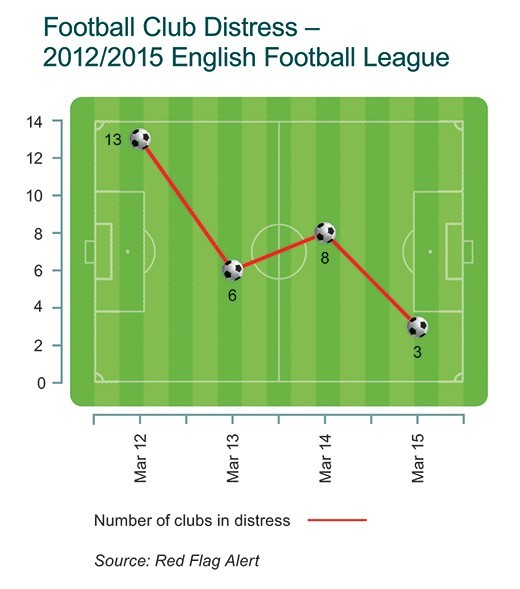 "The national game was in intensive care for some time in this country, but the measures introduced by the Football and Premier Leagues, as well as sound business management, have made great strides towards safeguarding its future," said football finance expert Gerald Krasner of business rescue and recovery specialist Begbies Traynor.
"The fall in the number of clubs suffering the sort of serious cash flow issues that can threaten their very survival is dramatic, and can be attributed to a number of factors," he commented.
"Financial Fair Play has had an impact, the fit and proper test of club owners has been tightened up considerably, and there is also a new realism within the industry that financial problems need to be addressed early, or big club failures such as that seen at Rangers really can happen," said Krasner.
Average attendances across the three divisions below the Premier League are up by 5% since the previous Football Distress Report was carried out in March 2014. This spelt more good news for the lower league clubs, but overall – including the Premier League – average attendances remained virtually identical to those in the 2013/14 season.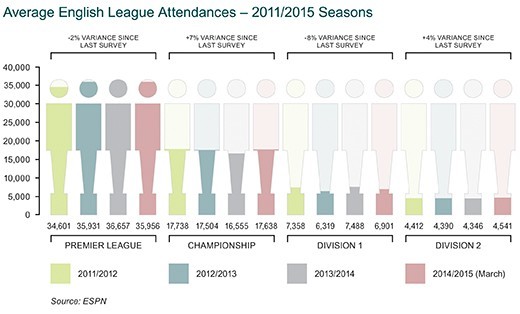 "What is different to a few years ago is that owners are taking action earlier where there are problems," added Krasner. "We are seeing clubs being carefully offered for sale ahead of the critical point where the business fails, which is the best way to keep the problems in the boardroom and off the pitch. Behind the scenes there is more scrutiny of the Premier League clubs' financial planning as well, ensuring more stability at the very top of the sport where most of the money is earned and spent by clubs and players," he said.
Designed to stop owners buying success and endangering the financial health of the club in the process, under the Premier League's own financial regulations, clubs are prohibited from making losses exceeding £105m across the 2013/14, 2014/15 and 2015/16 seasons, with stiff penalties, including a points deduction. Losses of more than £15m must be guaranteed by club owners.