Date Published:
01/03/2020
Example of Notice of Distress Warrant Letter from HMRC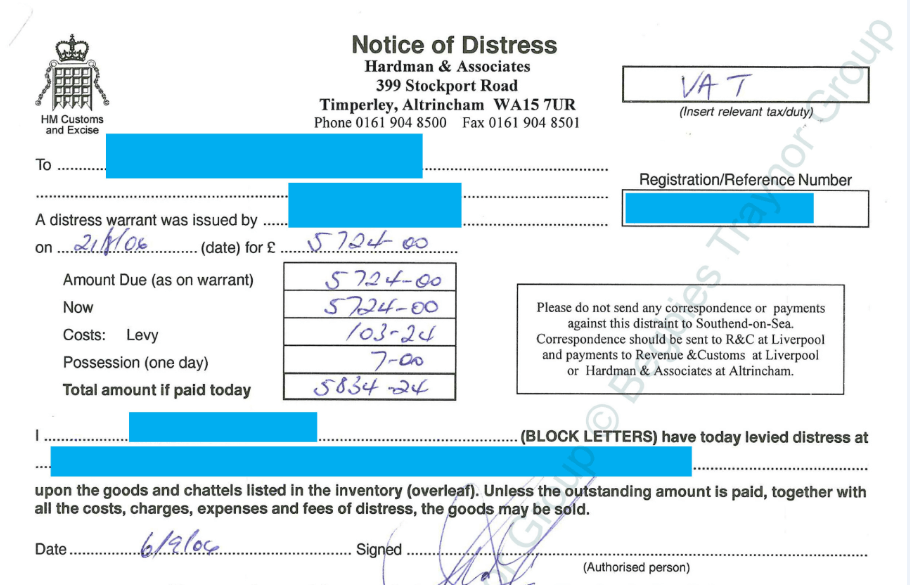 What does the letter say?
"Notice of Distress. I have today levied distress at (business address) upon the goods and chattels listed in the inventory. Unless the outstanding amount is paid, together with all the costs, charges, expenses and fees of distress, the goods may be sold."
What does this letter mean?
A Notice of Distress letter is the consequence of a lengthy period in which you or your company has failed to meet liabilities on time and, as a result, the creditor is seeking repayment through the use of a third-party debt recovery agency.
This creditor could be HMRC looking to collect unpaid tax debts, or a trade creditor such as a stock supplier. Either way, they are using their legal right to chase these debts.
A Notice of Distress  letter can differ widely depending on the debt recovery firm which has issued it; but the basic premise remains the same which is to levy distraint over goods and assets within your business. Once a Notice of Distress Warrant has been issued, the bailiff will attempt to recover your total payment for the outstanding debts but if this cannot be paid, they can seize goods and assets to be sold at auction. The money raised will then be deducted from your debts.
If you're a company director and you have been served a Notice of Distress Warrant, contact Begbies Traynor whose specialist corporate insolvency team can provide free, expert advice.